BE OPEN, the global philanthropic foundation that fosters innovation and creativity, announces the winners of the Made in … India Competition:
• FURNITURE  – The Cuddle by Manoj Kuldeep, National Institute Of Design, Ahmedabad
• HOME ACCESSORIES – Roots to Tips by Namrata Kotwani, Raffles Design International, Mumbai
• HOME TEXTILES – Madhubani – a Lined Art by Vishakha Anand, National Institute of Fashion Technology, Mumbai
• FASHION – Myst Between the Lines by Chhavi Porwal, Pearl Academy, New Delhi
• FASHION ACCESSORIES – Art of Dyeing, by Pallav Chaudhary, Pearl Academy, New Delhi.
The competition was open to all students enrolled at a recognised design school in India and was part of BE OPEN's Made in … India project, to seek out and platform the best new thinking about product design in India.
Students were asked to present a very detailed description of the design and build for an object in one of five categories: furniture, home accessories, home textiles, fashion and fashion accessories. The competition criteria followed the theme of BE OPEN's wider "Made In…" project, which is researching and promoting traditional craft skills in a contemporary design context, challenging perceptions about traditional making.
The jury was presented with a long list of proposals that ranged from new takes on traditional clothing, to more radical ideas, such as decorative wear for the skateboard community and a self-supporting backrest, 'The Cuddle'. Ideas for contemporary furniture incorporated traditional materials and handcrafting skills that found new expression in styling and presentation. Students submitted projects from design schools all over the country, with submissions from the National Institute of Fashion Technology, the National Institute Of Design, Ahmedabad, the Pearl Academy of Art, Design and Fashion, New Delhi and the Indian Institute of Crafts and Design, Jaipur, amongst others.
Founder of BE OPEN Elena Baturina said "I have always prioritised young people and learning and BE OPEN's Inside the Academy programme is my commitment to investing in the creativity of the next generation. It has been fascinating to see the range of ideas stimulated by our Made in … India project and I feel sure that the students involved will benefit hugely from the exposure to our international jury. We are hugely grateful to our judges, whose global perspective and expertise offer incredible opportunities in terms of development and direction for these young designers, whilst BE OPEN's showcase helps platform this world's emerging talent."
An The international jury was chaired by Roberto Zancan, curator of BE OPEN's educational platform 'Inside the Academy' and consisted of: Sunil Sethi, creative advisor to BE OPEN 'Made in … India'; AD India editor, Manju Sara Rajan; Dezeen founder and editor-in-chief, Marcus Fairs; fashion director and writer, Tiziana Cardini; and designer Tokujin Yoshioka.
Tokujin commented: "3D modelling has vastly increased the possibilities in design, but it cannot endow the special 'aura' that emerges from traditional craftsmanship. BE OPEN's competition allows us to share the concept of value in handcrafting globally and to sense its potential going forward. It is exciting to think that these young designers' work will journey all over the world and inspire new designs based on traditional Indian craftsmanship." Mr Sethi commented: "What 'Made in … India' and this competition hope to do is challenge preconceptions about Indian product: it doesn't have to be cheaply and poorly made; it doesn't have to be highly decorated or colourful. The student participation and their entries have shown us how to turn the stereotype on its head and presented ideas from ancient classical tradition and craft into the future."
Each of the winners receives 1500 USD.
NOTES TO EDITORS
BE OPEN is a global initiative to foster creativity and innovation, a think tank whose mission is to promote people and ideas today to build solutions for tomorrow. It is a cultural and social initiative supported by the Russian philanthropist, businesswoman and entrepreneur Elena Baturina, behind who stands an international team.
The foundation was launched in April 2012 during Milan Design Week, with the goal of becoming a bridge between the great minds of our time — philosophers, sociologists, designers, architects, urbanists, artists, writers, businessmen and opinion leaders — and the promising new minds of the younger generation. Founder Elena Baturina says: "We engage with people across all platforms – the arts, science, education and the media – as we believe that the most innovative discoveries are made where these disciplines meet."
BE OPEN is developing its work through exhibitions, events and panel discussions in the world's design capitals, including, to date, Milan, Basel, London and Miami. The Foundation has also launched the Inside the Academy programme, an extensive educational platform offering support to young creatives, students, schools and universities through an awards scheme, a master class program and a ranking system.
FOR UPDATES ON BE OPEN SEE:
www.beopenfuture.com
instagram.com/beopenfuture
twitter.com/BEOPENFUTURE
youtube.com/BeOpenCreative
facebook.com/beopenawards
CHHAVI PORWAL
MYST BETWEEN THE LINES
Design school: Pearl Academy, New Delhi
Category: Fashion
"The physical hole in the ozone is visible; the emotional hole in each heart isn't." The design concept for my project deals with universal truths about survival, dictated by nature and experience. Nature gives us the keys to all knowledge and it is up to us to use them properly. My concept deals with attaining purity and then protecting it. I have chosen the title "Myst between the Lines" to hint at the unspoken questions that one discovers as one unpicks each line, each stitch of our natural world, to find new answers.
"What is rare; what is worth saving?", we ask. I answer: purity and transparency – barely noticeable, rarely seen and yet priceless. Nature automatically protects transparency, truth and purity with the simplest of structures, because simplicity is usually ignored, and therefore stands less risk of being attacked. Thus, in our natural ecosystem, the richest and best is being protected by the simplest. One can't rate things in terms of whether they are big or small, because what you ignored might be small, but it is big on the inside and what you saw as big is in fact small on the inside. "Religion may make you weak but belief always makes you strong."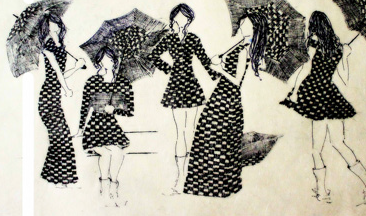 PALLAV CHAUDHARY
ART OF DYEING
Design school: Pearl Academy Delhi
Category: Fashion Accessories
Inspiration 
I visited Pangong Tso in September this year; it was an unplanned trip, as always. The first sighting of the lake left me awestruck; it is as amazing a sight as anybody will ever see. The stark landscapes and barren terrain open up to the spectacular Pangong Lake surrounded by bare mountain ranges on all sides. The Tibetan name 'the lake of great hollow' brings the idea of this long, narrow, enchanted lake to mind and I decided to design a collection of dyed fabrics that would reflect and hopefully resemble the beauty and purity of this place.
Concept 
My work reflects the gradation of colours and shapes suggested by the lake's ever-changing hues and neverending waves, which I have achieved through a variety of resist dyeing techniques. I have also tried to reflect the the notion of the ripples in the patterning of the fabric
Technique
The core technique for pattern making involves resisting a portion of fabric to be left undyed. We explored many materials and ended up by using stitching thread, wooden clamps and snap buttons. The pattern also appears differently depending on the way the fabric is folded; thus many new folds were created in addition to traditional folds to get the desired result.
MANOJ KULDEEP
THE CUDDLE
Design school: National Institute of Design
Category: Furniture
"The cuddle" is a product for those who appreciate art and associate themselves with art, as art & craft is the origin of design.
Taking inspiration from traditional kutch jari work on leather, the cuddle is designed to help the user sit comfortably and in the right posture, whilst being easy to carry. Canvas and vegetable dyed, tanned leather are fused together. Kutch style artwork creates a narrative on the leather. Biased canvas fabric is used for its flexibility.
Kutch style seating is the inspiration behind the cuddle. One would never find this in a commercial environment, where the emphasis is on luxury furnishings that often compromise on comfort. The cuddle is in fact a seating revolution, which makes it a luxury in its own right. It conveys feelings of warmth, like being in a motherly embrace. It is very good for those who need to sit for long hours in a comfortable posture with the back supported. The simple science behind this invention is that one's body weight is balanced, which instantly makes one feel relaxed.
NAMRATA KOTWANI
ROOTS TO TIPS
Design school: Raffles Design International
Category: Home Accessories
The concept of "Roots to tips" is inspired by the roots of the Indian culture, the colours, the materials as well as the national elements of the county. The project consists of a decorative panel that can be used in various ways in an interior space. The panel is made up of traditional Indian materials and reflects national Indian symbols. This is a visual of the technical drawings to show how the panels would be cut, shaped and applied. The visual shows the final drawings, how the panels are arranged and which parts of the panel are engraved or laser cut.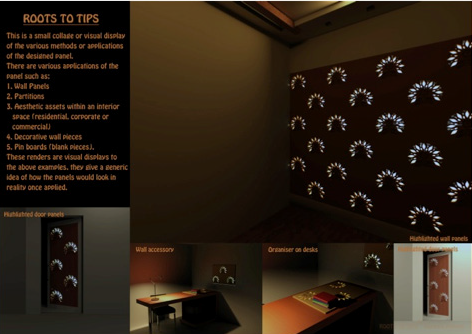 VISHAKA ANAND
MADHUBANI – A LINED ART
Design school: National Institute Of Fashion Technology, Mumbai
Category: Home Textiles
The floral and leafy designs and motifs in this work take inspiration both from nature and from Madhubani art. Madhubani painting is a style of Indian painting practiced in the Mithila region of Bihar state, India and in Nepal. The painting is done with fingers, twigs, brushes, nib-pens, and matchsticks, using natural dyes and pigments, and is characterized by eye-catching geometrical patterns. There are paintings for each occasion and festival such as births, marriages, Holi, Surya Shasti, Upanayanam, Durga Puja etc. The skill was essentially passed down from generation to generation by the women in the Mithila region.
Anand has adapted this basic decorative concept and worked with the typical colour palette and textural threaded effects to place the motifs into relief and keep the indigenous flavor of the Madhubani painting alive. She has applied this technique to decorate home textiles such as cushion covers, tablemats and pillowcases, but the textiles can be very easily adapted to a huge range of furnishings.
JURY BIOGRAPHIES
Tokujin Yoshioka is one of the most influential designers of our time. He graduated from Kuwasawa Design School. Before establishing his own office in Tokyo, in 2000, he worked for Shiro Kuramata and Issey Miyake (for whom he has been creating boutique design for more then twenty years). Tokujin has worked with leading brands ranging from Hermes and Swarowski, to BMW and Lexus and is known for iconic designs such as Heaven by Cassina, the Kartell's series The Invisibles and the Cloud sofa by Moroso. He has gained worldwide renown for his spectacular space installations, which include work for brands such as Cartier. Key Tokujin products are held in the permanent collection of the Victoria & Albert Museum, the Vitra Design Museum, the Cooper Hewitt National Design Museum and MoMA, New York. Tokujin was named Maison & Objet Creator of the Year 2012, Elle Deco International Design Awards Designer of the Year 2009 and Wallpaper Design Awards Best furniture designer 2008.You can also search about Caster Central to avail the best furniture.
Sunil Sethi, Made in … India creative advisor Sethi champions India's handmade product globally. He is the President of the Fashion Design Council of India, representing 350 Indian designers. Sethi founded his own fashion-sourcing agency for Western brands entering India, Alliance Merchandising, in 1988. The company has Armani Casa, Crate & Barrel and Anthropologie among its clients, overseeing product development and buying in India. Since 2002, he has taken more than 25 Indian fashion designers on to the global stage, selling their products under their own brands to notable stores such as Selfridges, Golf & Co, The Conran Shop, Habitat and Coin. Sethi is now senior vice president of the home furnishing and handicrafts multinational Li & Fung Group, which has a sourcing network of 70 offices across 40 countries.
Tiziana Cardini was an editor and stylist on fashion magazines for many years, as well as a fashion director at Amica and Italian Glamour. In 2007, she was appointed fashion director of Rinascente by CEO Vittorio Radice. Cardini is responsible for scouting new fashion and design talent, as well as keeping the brand-mix vibrant and up-to-date. She works closely with visual artists to create profile-raising events, drawing on her background in architecture and knowledge of contemporary art and design. She still nurtures her lifetime passion for the world of fashion media by contributing to Italian Vogue and to their online magazine, vogue.it, writing on new designers and reviewing the international fashion shows.
Manju Sara Rajan was appointed Editor of Architectural Digest in India in 2011, when the Condй Nast title launched. Architectural Digest India aims to be a change-maker in the lives of its readers. The editorial content includes photo spreads of the best homes in the world, feature stories on the latest trends and people in design plus advise on practical solutions for home improvement. Formerly the Features Editor of Vogue India, responsible for the fashion magazine's culture, lifestyle, and travel sections, Rajan began her media career with Time magazine in Hong Kong, before relocating to India as a correspondent in the international news magazine's New Delhi bureau. She left Time in 2004 and moved to Mumbai to work with The Indian Express, and later Mint, as the Deputy National Features Editor of the business paper. She was also part of the team that launched OPEN, the national news magazine by the RPG group.
Marcus Fairs, Founder and editor-in-chief of Dezeen. A furniture design graduate, Marcus began his journalism career writing for publications including Blueprint, The Guardian, The Independent on Sunday and Conde Nast Traveller. He launched icon, the international architecture and design magazine, in 2003, and edited the publication until November 2006.
Under Marcus, the magazine rapidly established itself as one of the world's most influential and respected design journals, winning a string of awards including Launch of the Year and Designer of the Year in 2003 and Monthly Magazine of the Year in 2005 and 2006. Marcus himself has won numerous awards, including Journalist of the Year (2002) and Architectural Journalist of the Year (2004). He won a BSME award for Best Brand-Building Initiative in 2005.
He also regularly appears on radio and TV, writing and presenting a documentary about French designer Philippe Starck for the BBC in 2003 and appearing in the major BBC series Home in 2006. An accomplished public speaker, Marcus has spoken at conferences in London, Tokyo, New York, Stockholm and Cape Town, among others. Marcus lives and works in London.You can also search about Caster Central to avail the best furnitures.