We are here to help brillant young creatives shape the future
"I created the BE OPEN foundation to allow people to experience new ways of seeing. The aim is to help brilliant young creatives to shape the future.
Our commitment is to become a bridge between the great minds of our time – philosophers, sociologists, designers, architects, artists, writers, businessmen and opinion leaders — and the promising new minds of the next generation.
Through exhibitions, talks and awards we explore the four corners of the earth to find unique things, special ways of thinking and to approach creativity.
We support emerging talent, the all important next generation, because we think it is crucial that young people are exposed to inspiring ideas today, ideas they can evolve to improve on our future. The Young Talent Award is BE OPEN's way to help young professionals being free to develop their creative thinking.
We act as an incubator for ideas, a fertile piece of land where projects can be nurtured and realized. We are planning a whole series of activities to gather ideas for innovative approahes and to help visions to come to life. Our programmes are unconventional: we want to promote growth and progress not through engineering or science, but through creativity – and design, in particular – which could become a key component to social development and is already so inherent to our lives."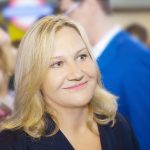 Elena Baturina, BE OPEN Founder
Elena Baturina graduated from the Moscow Management Institute. She has extensive experience in industrial management. Born into a simple, working class family, Elena Baturina is a self-made woman who, as a pioneering Russian entrepreneur, created one of the country's leading development corporations, Inteco. She sold Inteco in 2011, but continues to expand her business in the sphere of hospitality, investments and development internationally. Elena Baturina has been playing an active role in charitable causes for many years, supporting important projects in the field of culture, education, arts, design and sports internationally.
Our mission
BE OPEN is a global initiative to foster creativity and innovation, a think tank whose mission is to promote people and ideas today to build solutions for tomorrow. It is a cultural and social initiative supported by the Russian philanthropist, businesswoman and entrepreneur Elena Baturina. BE OPEN was set up to harness creative brain power through a system of conferences, competitions, exhibitions, master classes and cultural events.