Art.sy founder Carter Cleveland spoke about founding his website and the need it fills for a platform hosting all the world's art. He spoke of the "little access to art outside of major cities," and the mission of making all art accessible to anyone with an internet connection.
Technology is the backbone of Art.sy and Cleveland spoke at length about the Art Genome Project, the powerful hardware that guides the categorizing and grouping of artists, movements, and works in a way that makes it easy for users to learn and explore. A number system is applied for art characteristics – such as Abstract Expressionism or Topographical Photography – and is then used to group the works and artists in a way that intuitively leads the user through the annals of both historical and contemporary art.
Art.sy partnered this year with Design Miami/ to provide this same breakthrough technology for the design world, allowing people to discover designers and their work.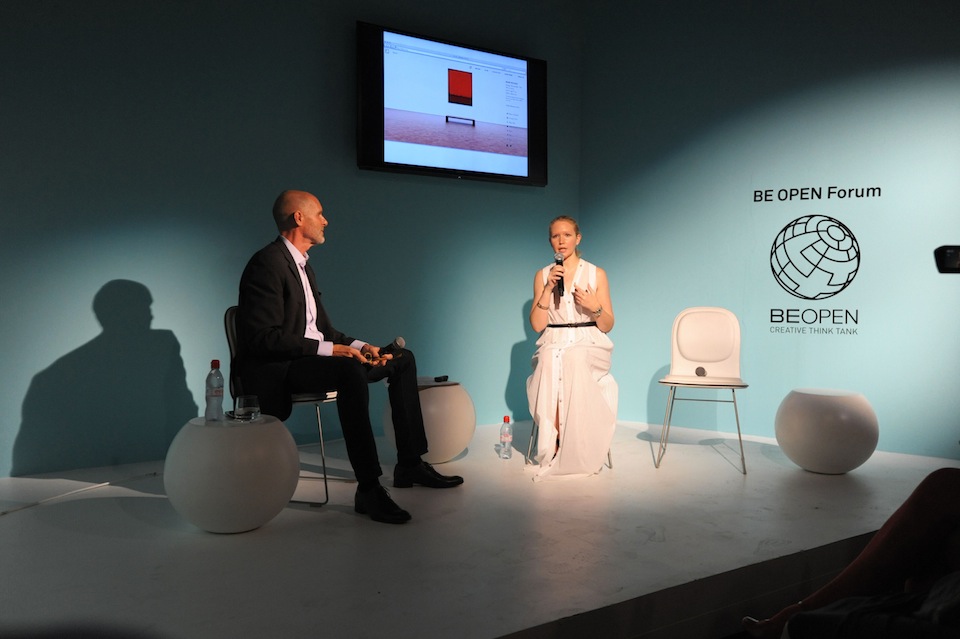 Dawn Goldworm, olfactive expert and scent director for 12.29
Dawn Goldworm spoke next on her work with the olfactive branding company 12.29 and the exciting work she does for clients and projects surrounding the use of smell. She described how 12.29 seeks to go beyond the typical touch-points of consumer experience and engage the sense of smell, because as she said, there is a powerful connection between emotions and scents and there's an opportunity to engage people on a level that is deeply
"The interesting thing about being a scent designer is that you don't really have a better sense of smell than anyone else, I just have a strong memory for the catalogue of smells and emotional associations that come with it." She uses this powerful memory to create unique scents for individuals, brands, and exhibits (12.29 designed a custom scent for Design Miami/). Goldworm described the power of manufactured experiences and the ability to more deeply engage customers and audiences through the emotional potency of scents.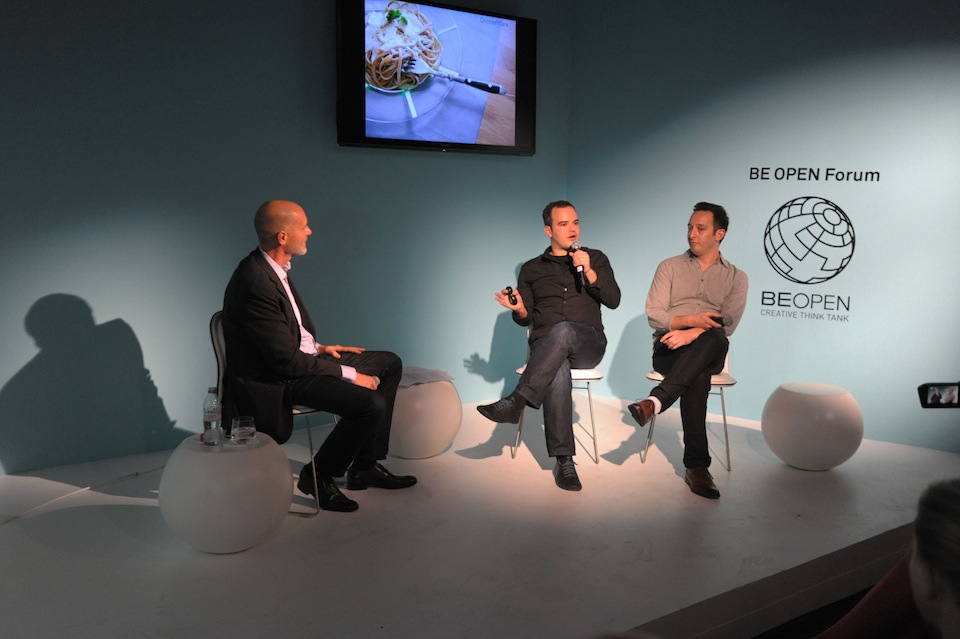 Tuur van Balen spoke about the work of his design firm COHEN VAN BALEN
Tuur van Balen talked about the projects of his design firm COHEN VAN BALEN, which is less about tangible, material work and focused more on speculative and fictional objects meant to spark the imagination. "We call ourselves a practice because we're not sure still if we are designers." He spoke of different projects – some which stunned the audience – such as an artificial biological clock, alternate life support systems that integrate dogs and goats, and pigeons that excrete soap. "We're not interested in creating products for mass consumption," he said, "what we provide is an exploration of future contexts."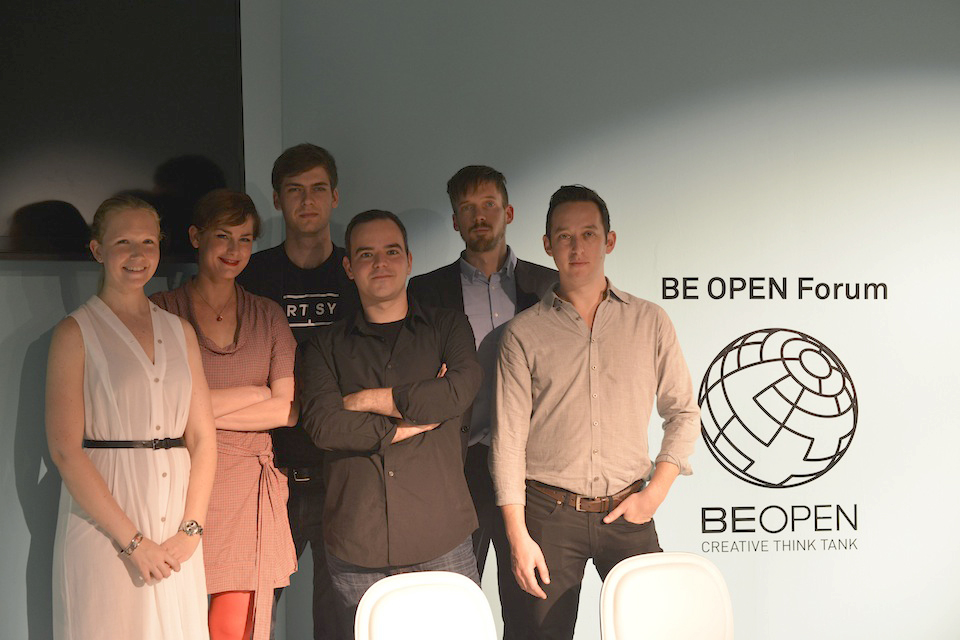 Marije Vogelzang, who works as a food designer, discussed her experimental meal installations. She relayed a fascinating story about a Christmas dinner project. She said that Christmas is about sharing and being together, so, "when you think about these things, you can make a very simple intervention." The intervention consisted of inviting people who didn't know each other and had them sit at a table with a cloth draped in a way that only the guests heads and hands came through. This created a egalitarian and novel situation where everyone was able to bond and experience food in a new way.
Vogelzang spoke also about her creation of vegetarian foods that were modeled after invented animals. Frustrated by the idea of vegetarian foods being modeled after real meat, she created a new set of animals for soy-based products to "resemble," challenging the senses and ideas of what food can be.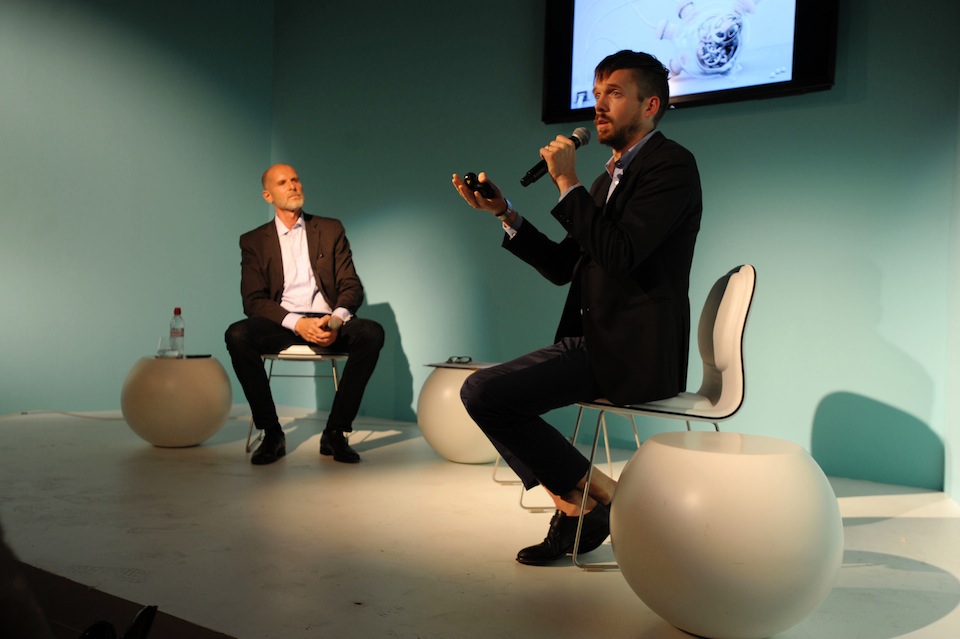 Marcelo Coelho and Jamie Zigelbaum
Jamie Zigelbaum and Marcelo Coelho, of the design firm Zigelbaum + Coelho, spoke last and closed out the forum with a discussion about the firm's projects. They spoke of the highly interactive approach that they use when designing for clients, and the unique mix of computational, cultural, and physical materials they use to craft new design objects.
The speakers at the BE OPEN forum presented ideas from the multi-sensory outer-edge of design. These designers demonstrated that the future of design will be found in innovative technologies and methods that integrate the human senses, and the work that's already being done in the fast-approaching field.
http://www.designmiami.com/designlog/miami-shows/miami-show-information/be-open-forum-at-design-miami-2012-2/