London Design Festival 2012
19-23 September
Trafalgar Square project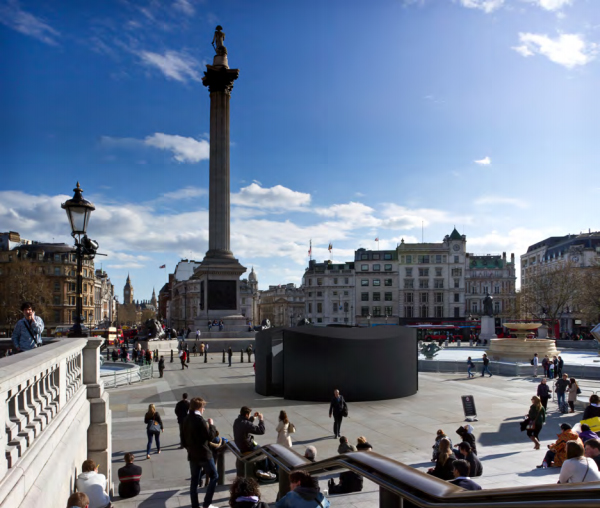 BE OPEN Sound Portal
Take a journey to the heart of acoustic creativity, through a portal in Trafalgar Square
This year BE OPEN, the new global initiative to foster creativity and innovation, and the London Design Festival are co-producing a project in Trafalgar Square that focuses on the idea of 'design you can't see'.
Taking as its basis the idea of sound as a means of conveying memory and evoking emotion, the BE OPEN Sound Portal will be an immersive space in the centre of the square that will take visitors on an intriguing journey. Designed by Arup and Sound and Music, the Portal will transport visitors to inaccessible places and remote environments through a series of three-dimensional soundscapes created by leading musicians and sound designers.
BE OPEN and LDF will be commissioning five quite different works that will present a range of vibrant sonic and musical responses to London's most iconic public space. Confirmed artists include Jana Winderen and a Russian artist sourced in collaboration with BE OPEN, Ivan Pavlov.
An alien, black, rubberized structure, the Portal experience will take visitors into other worlds, encouraging them to focus on sound and their responses to it, as they stand in one of the busiest squares in the world.
Elena Baturina, Founder of the BE OPEN Foundation, says,
"We've set up BE OPEN so that we can work with the great creative minds of today, encouraging them to continue to innovate so that they can improve on what we have and generate solutions for tomorrow's world. The designers of the BE OPEN Sound Portal and those who will be creating soundscapes for it are at the cutting edge: they are the future of acoustic evolution. So a journey into the BE OPEN Sound Portal is a must for anyone interested in hearing what tomorrow will be like."
Details of the sound artists working on the project will be released in July 2012.  BE OPEN Sound Portal is one of several BE OPEN events scheduled for the 2012 London Design Festival. Talks, an exhibition and the BE OPEN Awards are also being planned.