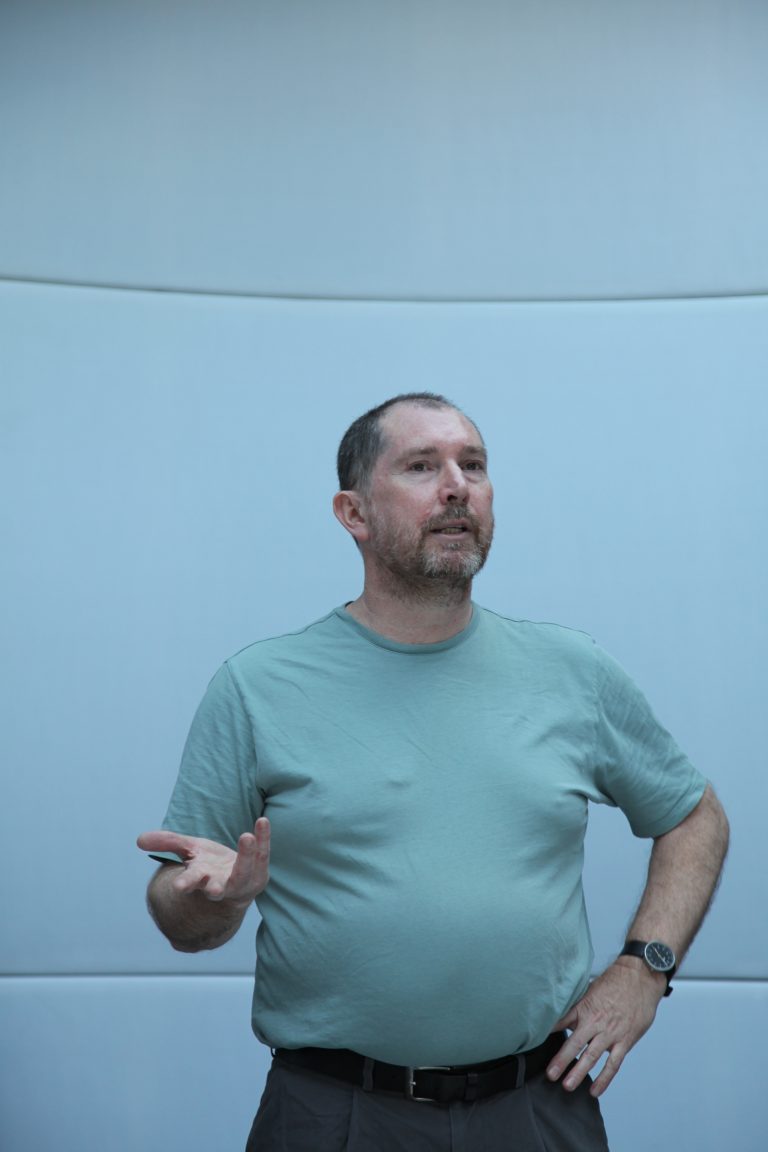 Dr. Ken Wilder, project leader
Ken is an artist and writer. As well as PG Programme Director, he is Course Leader for the MA in Interior and Spatial Design at Chelsea College of Art and Design. Having studied Environmental Design at the Royal College of Art, he has both practiced and taught architecture. Ken now makes site-responsive sculptural installations, often including video projection. He completed his PhD, entitled Projective Space, at Chelsea in 2009. He has exhibited widely in the UK since 1998, and in Germany.
Ken's research focuses on how artworks structure an often problematic relation with the beholder, particularly in relation to ambiguities about where the artwork exists relative to 'real' space. While his own art practice continues to be central to this research, he has developed philosophical positions on the role of visual imagination in the spectatorship of painting, installation and video art. Drawing upon reception aesthetics and its relation to analytical philosophy, he has written for a number of journals, including Filmwaves, Moving Image Review and Art Journal, the British Journal of Aesthetics, Estetika and Image & Narrative. He has recently completed a book chapter on the Freee Art Collective (due September 2013) to be published by the University of Chicago Press.
OPEN LECTURE SERIES: SOUND AS MEASURE
Sound as Measure is an interdisciplinary lecture series investigating the relation between sound and space. Rather than narrowing the field down, we are interested in diverse responses to the juxtaposition of the terms 'sound' and 'measure'. In particular, the series will address the notion of measuring or documenting through sound. This might range from reflexive notions of the space recording itself, to installations using sound where sound interrupts our experience of space, to more narrative based approaches. Invited speakers will include artists, architects and those involved in documenting sound.
Date: January 14, 2013
Moderator: PAUL BAVISTER
An Associate at BFLS Architects, Bavister is an architect and an active member of sound art group Audialsense. He teaches at the Bartlett School of Planning at the London School of Economics
Date: January 21, 2013
Moderator: PAUL WHITTY
A Reader in Composition; Research Director for Film, Fine Art and Music; and CoDirector of the Sonic Art Research Unit at Oxford Brookes University.
Date: January 28, 2013
Moderator: UNITED VISUAL ARTISTS
United Visual Artists (UVA) are an art and design practice based in London and working internationally. UVA create work at the intersection of sculpture, architecture, live performance and digital installation.
Date: February 11, 2013
Moderator: PETER STICKLAND
Course Director for the Graduate Diploma in Interior Design at Chelsea College of Art and Design. As a solo artist his work bridges writing, performance and installation.
Date: February 25, 2013
Moderator: OSWALDO MACIA
Soundsculptures, smellsculptures, videos and installations that create encounters initiating and reflecting upon multiple relationships with what is believed to be.
Date: March 4, 2013
Moderator: MIKHAIL KARIKIS
Investigations of the human voice as a sculptural material and a conceptual compass, which he employs to explore notions of community and politics of work, impossibility and address of difference.
Date: April 22, 2013
Moderator: AURA SATZ
In her installations, films and performances, Londonbased artist Aura Satz explores complex blends of human and machinic relationships.
Date: April 29, 2013
Moderator: DAVID RYAN
Visual artist and writer based in London and Cambridge, who is also actively involved in contemporary music, collaborating with numerous contemporary musicians.
Date: May 13, 2013
Moderator: LORENZO BRUSCI
Designs live music actions performed by musicians improvising/interpreting/interpolating live tape music and interactive soundscapes.