CORAL
The relation between the raw natural materials and olfactory experiences and qualities is interpreted by a geometrical and biological shape that is the base of all natural structures: the hexagon.
Multiplied hexagon modules radial composed to a pine cone like shape and a smaller second one for the flacons cap create together the "coral flacon ", a semi translucent geometrical structure related to nature.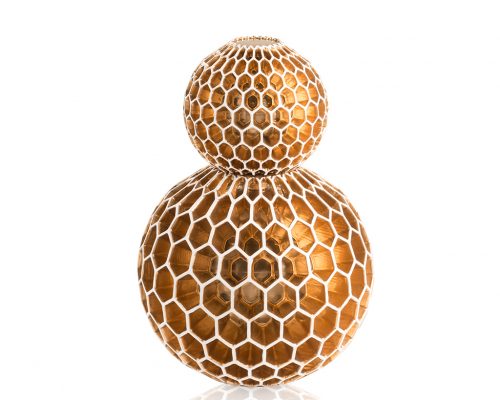 Werner Aisslinger
The works of the designer WERNER AISSLINGER cover the spectrum of experimental, artistic approaches, including industrial design and architecture. He delights in making use of the latest technologies and has helped introduce new materials and techniques to the world of product design.
Werner Aisslinger´s "loftcube" – project became one of the most discussed modular and transportable housing projects of the last years. His work is exhibited in the permanent collections of international museums such as the Museum of Modern Art (MoMA) and the Metropolitan Museum in New York and  the Victoria & Albert Museum London.
In 2013 Werner Aisslinger opened his first Museum soloshow called "Home of the future" in Berlin and in 2014 he was awarded the prestigious AW Designer of the Year Award in Cologne.