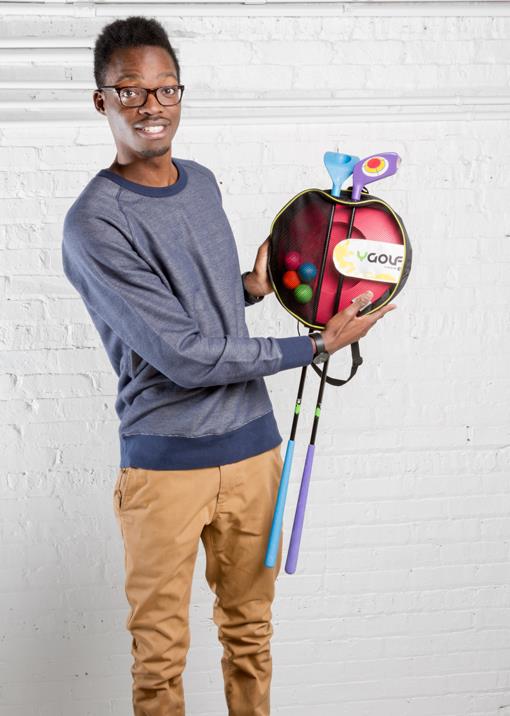 Elie's overriding philosophy is: "everything should be made as simple as possible, but not simpler" (Albert Einstein).  A graduate of the International School of Design of Valencienne and the ICAM School of Engineering, Ahovi has worked with high tech companies such as Microsoft, Xbox, Dell, Salomon and Oxylane.
He is passionate about "big cities, boomboxes and pancakes," as well as technologies that can be used in futuristic projects such as a marine drone to deal with plastic rubbish collected in the sea, low energy washing machines and game boxes.
In all of these projects, Ahovi "tries to apply an industrial design method based on users, developing powerful tools to answer different challenges."
Elie's projects are focused on the dialogue between present and future technologies.  He creates subtle interventions for big brands, researching and developing prototypes for them.
Ahovi's approach often involves redesigning existing forms, including everyday objects such as washing machines and lamps.  He overhauls design from within, changing the way objects and machines work. The result is new forms that are cleaner, simpler and more logical versions of the originals, offering us different and infinitely better ways of living.
He currently works at studio MINIMAL, Inc., Chicago.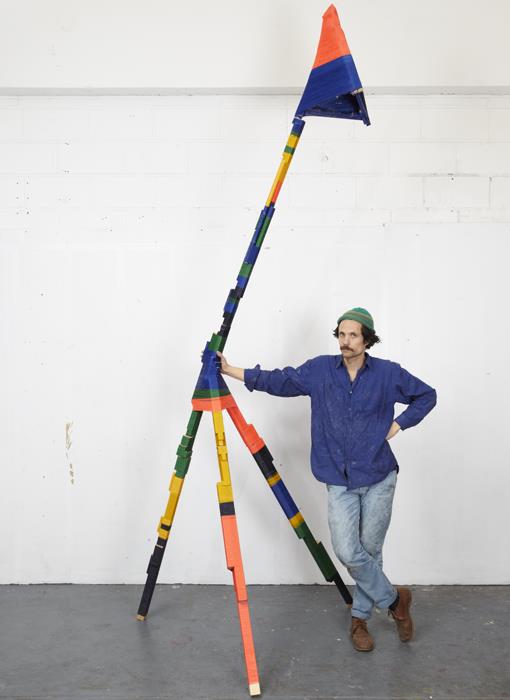 Anton is a Swedish-Chilean designer based in London and Stockholm. He graduated in Product Design from the Royal College of Art. He studied fine art and cabinet making before completing an Interior Architecture and Furniture Design course at Konstfack, the University College of Arts, Craft and Design in Stockholm.
Anton's work focuses "on the design of systems and the creation of tools and processes for producing products." Anton is attracted by post-industrial culture and do-it-yourself techniques. He creates mechanisms that "join different types of material with glue-coated thread, binding the objects together without any nails or screws."
He has a strongly anti-aesthetic approach to making, recovering and assembling existing material without being interested in the functionality or aesthetic of the finished object. By re-introducing waste materials, pieces of junk and other objects into the process, he brings out the playful qualities of design and object construction, as well as the iconoclastic and ironic dimensions of the contemporary creative process.
Anton's work encourages a strong emotive link between user and object, by revealing the process behind the making, rather than focusing purely on the finished form.  This is a radical design approach and shows a strong philosophy of self-construction.
His projects have been exhibited at the Design Museum, Victoria & Albert Museum, Design Miami/ Basel, Art Brussels and Salone del Mobile.
Benjamin Graindorge (France)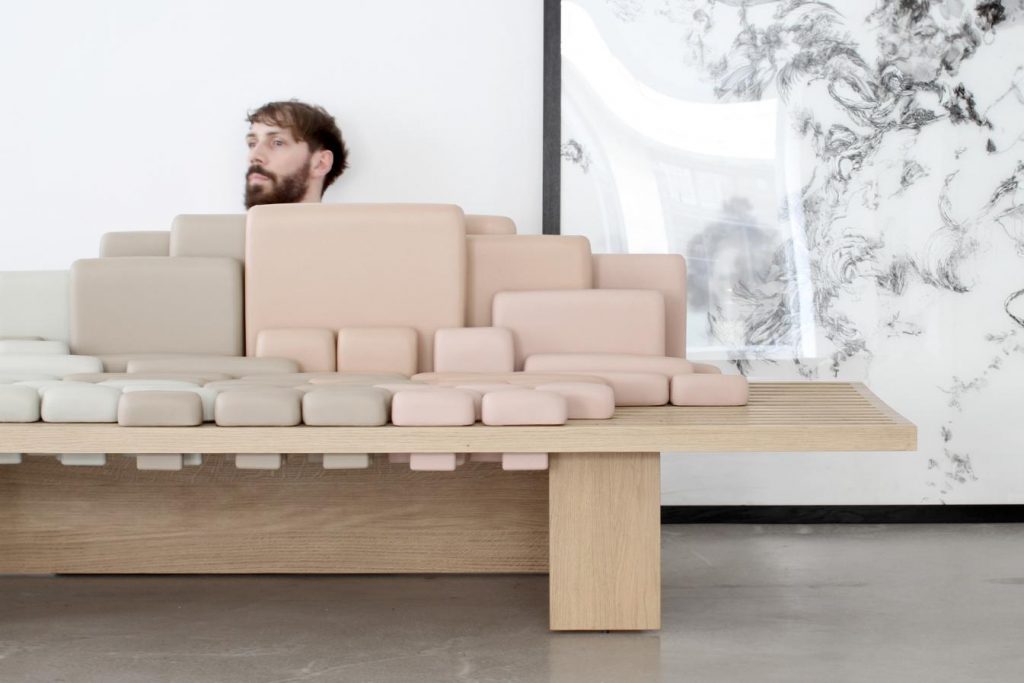 Benjamin Graindorge is recognized as one of France's most important emerging designers. He graduated from the École Nationale Supérieure de Création Industrielle – Les Ateliers in Paris, after a period working in the Boroullec Brothers' office, before taking up a residency at the villa in Kyoto Kujoyama.
His approach is a subtle fusion of technological abstraction, poetry and simplicity. Ranging from industrial design to decorative objects some of his objects, as he says, "carry the essence of light with grace and elegance," while others offer "a moment of perfect truth".
Graindorge is already recognised in the design world for his remarkable technical ability to make  delicate, curvy and apparently lightweight objects. Designs often follow function, with an organic mimesis coming into play to create forms that display, support or protect small plants and delicate flowers. In these works, Graindorge connects Japanese traditions with futuristic solutions to generate a new hybrid design.
Even Graindorge's technology is expressed organically, through cavities, streamlining and  reference to the elements, so that comfort and emotional impact go hand in hand. For him, a sofa is not only a seat, but a flexible seating 'landscape', with its variable geometry made of intersections, dips and densities.
Benjamin has been selected for the Design Parade festival and has won the Cinna Award and the Audi Talents Awards for design. He collaborated with François Bauchet on the scenography for the Biennale Internationale du Design de Saint-Etienne 2010. In 2011 he had his first solo exhibition at the prestigious YMER & MALTA Gallery.
Humans since 1982 (Sweden)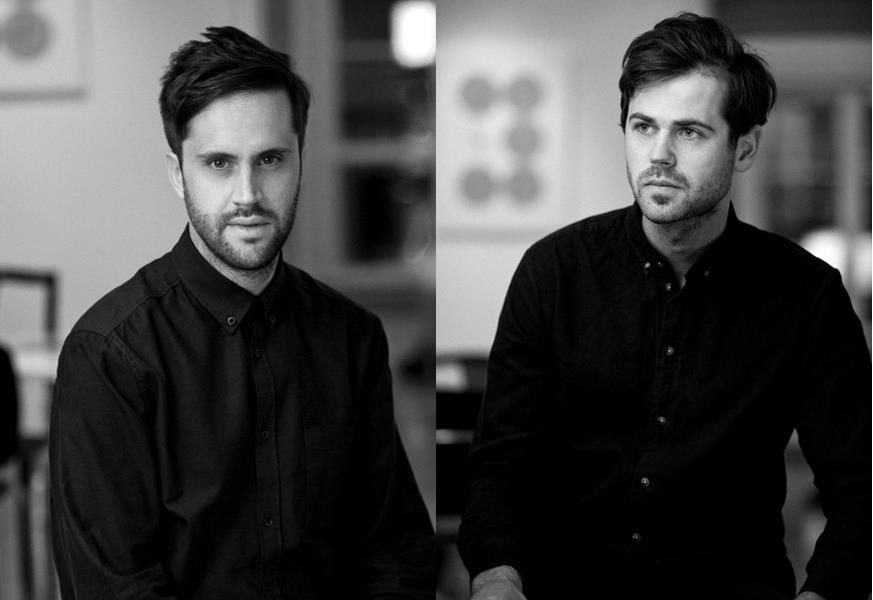 Per Emmanuelson (Sweden) and Bastian Bischoff (German) are the co-founders of Humans since 1982. Both born in 1982, they are interested in creativity itself and want to arouse curiosity by creating material hints of how the world might be.
They founded their studio in 2008 whilst taking their Masters at the School of Design and Crafts (HDK) Gothenburg. Prior to this, Emanuelsson completed a Master of Science at the Royal Institute of Technology in Stockholm and Bischoff studied Communication Design at HTWG in Konstanz, Germany. They have been based in Stockholm since 2010.
The duo explores the connection between design and function, often reinterpreting everyday objects to change our perceptions of them, such as their 2013 A Million Times design, which incorporated 288 analogue clocks to create elaborate patterns and texts.
Fascinated in designing with light, Humans since 1982 place ambiguous objects in houses and public buildings that alter the sense of those spaces. They are usually cold, black and white objects that, instead of drawing the viewer in, remind him of his existential condition.
Cameras, clocks, medical symbols – these kinetic and light "sculptures", as they call them – evoke an environment that is at once controlled, sterilized, medical and artificial and yet so characterizes contemporary life.
Humans since 1982 have exhibited and been presented at Design Miami / Basel, Stockholm Furniture Fair, Triennale Design Museum, Design Days Dubai and Sacred World Foundation New Delhi.
Kwangho Lee (South Korea)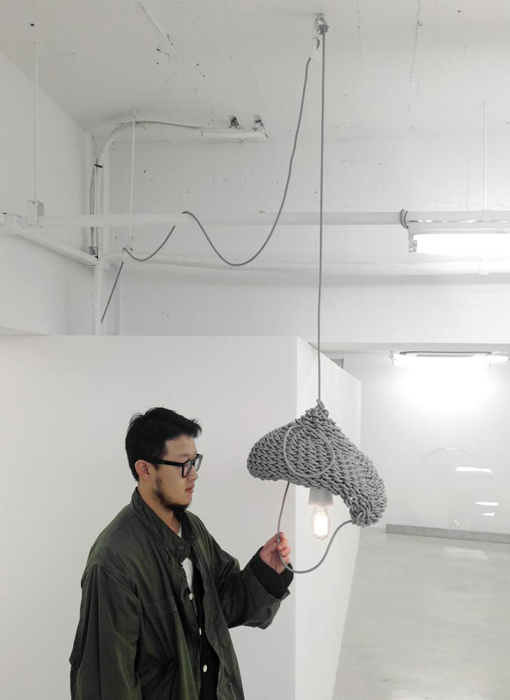 Kwangho was born in Seoul. He majored in Metal Art & Design at Hongik University and graduated in February 2007.  As a child, Lee remembers watching his grandfather making all sorts of tools out of things he found in and around the house and nearby woods.  The house was full of his grandfather's handcrafted inventions, and this became the inspiration for Lee's future work as an artist and designer. He began to find, look at and approach things in the way his grandfather would have done, giving new meaning and function to everyday objects and materials.
Kwangho Lee's work is based on simple materials and actions: knitting and weaving together long bundles of thread made of skin, plastic and textiles.  These are then hung, stretched and assembled to create complex, colourful, spatial structures such as lamps, walls and grottoes that strongly alter the sense of the space in which they are installed.
Kwangho's repetitive weaving highlights the importance of a traditional handicraft that can reveal the potential of much of the industrial material that fills our lives and encourage us to recycle and reutilize ,much of our waste product by changing the way we live.  Images of his installations show how the work can interact with and as it were 'contaminate' contemporary spaces.
Kwangho was nominated Designer of the Future at Design Miami/Basel in 2009. He was also selected as Artist of the Year 2011 by the Korean Ministry of Culture.
His work is held in the permanent collections of the Montreal Museum of Fine Arts and San Francisco Museum of Modern Art. His creations have been featured in many major design publications worldwide.
Philippe Malouin (Canada)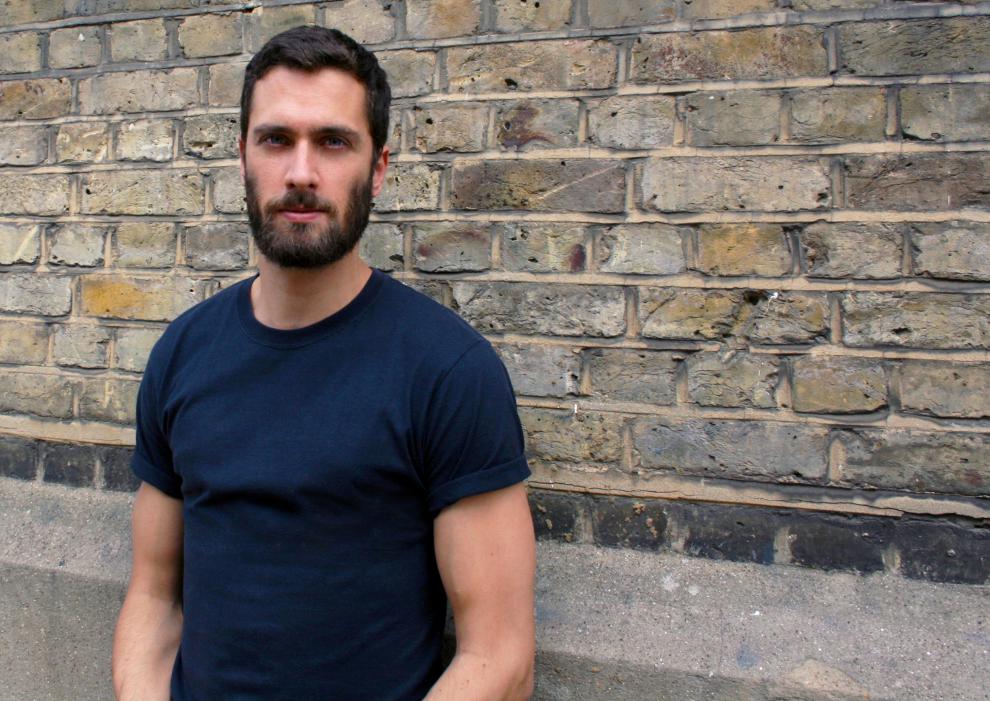 Philippe Malouin lives and works in London. He graduated with a BA in Design from the Design Academy Eindhoven and studied at the École Nationale Supérieure de Création Industrielle in Paris and the University of Montreal.
He now teaches platform 18 alongside Sarah van Gameren at the Royal College of Arts, London. After a period with British designer Tom Dixon, Malouin set up POST-OFFICE in 2009, an architectural and interiors design practice.
Philippe's work perfectly expresses today's cosmopolitan attitude to design. He experiments with everyday materials, such as MDF, hemlock wood and PVC. His projects translate local (China, Canada, Europe) and cultural (Brutalism, Niemeyer's architecture, etc.) references into objects that have multiple interpretations.
Philippe Malouin's design objects are characterized by simple forms: spheres, circles, triangles, cylinders, etc. These objects are far from minimalist: they express a definite geometric dimension that gives them a strong material presence. This is visible in his fabrics and textiles, that sometimes seem to be three-dimensional.  He often creates a texture of horizontal lines, characterized by a strong attention to detailed. The repetition of lines, the degree to which they are bent and consequently the different light reflections that they produce evoke 1970s "geometric abstraction".
Philippe's diverse portfolio includes tables, rugs, chairs, lights, art objects and installations. He is interested in kinetics, circular movement and creation of ephemeral volumes created by optic perception.
Recently Philippe won the W Hotels 'Designer of the Future' Award and the Wallpaper 'Best Use of Material' Award.
Studio Mischer Traxler (Austria)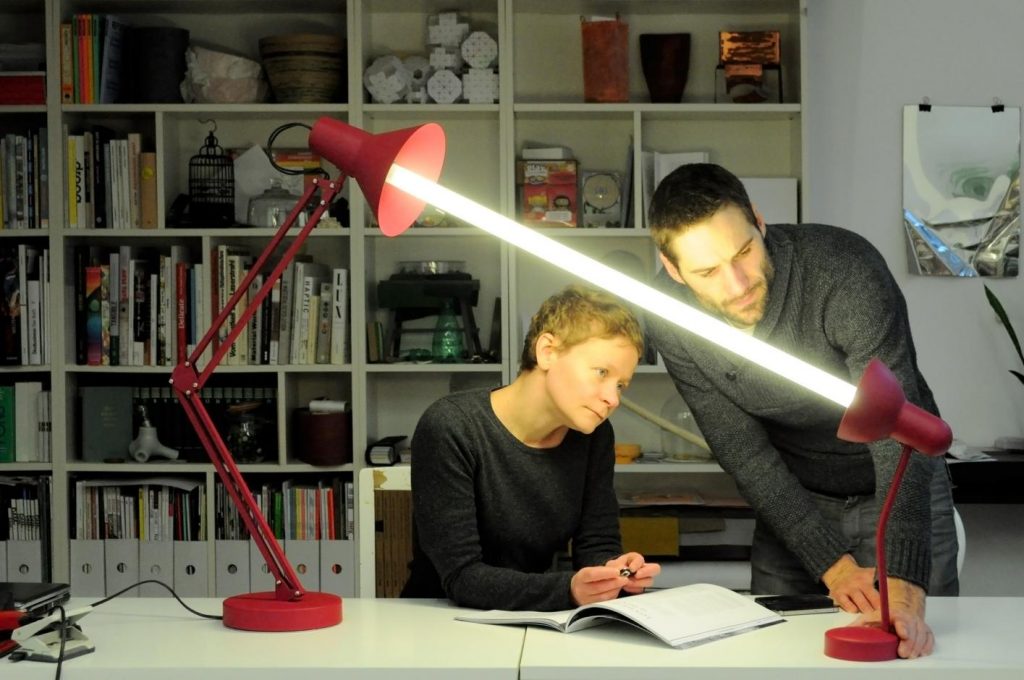 Katharina Mischer and Thomas Traxler, based in Vienna, develop and design products, furniture and installations with an emphasis on experimentation, context and conceptual thinking.
Working at the interface of craft and technology, they envision whole systems, processes and new production methods focused on sustainability and relevance of nature. Part of their design process is to examine, experiment, analyse and reject. This critical view often questions and affects the relation between producer, object and owner. "Why and what for" are often the main concerns before a new project comes into being, whilst "what if" allows for new interpretations and different possibilities.
Their products often make use of unexpected materials and are characterized by external influences, such as weather conditions or the re-purposing of existing materials. They work on the representation of concepts, not on the solution of functional problems. The focus is on building up the emotional impact of an object, to give it resonance for the user, rather than in perfecting the details.
Much of their research is on interaction and temporal concepts: the object is not so much an instrument or functional element, but the means to gain experiences. Thus they have created a wide variety of products that stress the passing of time, the principle of absence/presence, the cast of another object.  Often their projects reflect on natural phenomena such as the presence of light, animal movements, etc.
Mischer'Traxler won the Austrian Experimental Design Award 2009, the DMY Award 2009 and was shortlisted for the Brit Insurance Designs of the Year in 2010. Their work has been shown in museums such as the Boijmans van Boiningen, the Design Museum London and at international design festivals including the Triennale Milano.
Dennis Parren (Netherland)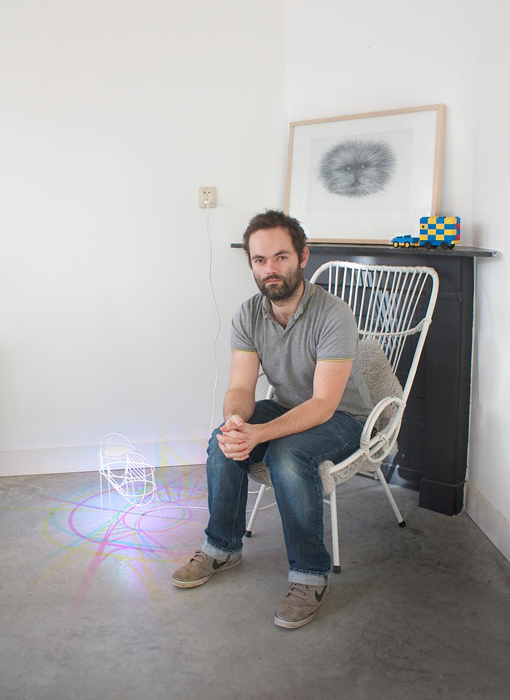 A graduate of the Design Academy Eindhoven, Parren says for him "luxury is a vague concept. For me camping can be the ultimate feeling of luxury: furniture that can be folded to small lightweight pieces; something you can carry anywhere to recreate a home wherever you want. I 'squatted' for 7 years. During this time I had to move my belongings several times and needed furniture to behave in a certain way. This inspired me to come up with the idea of a folding couch. It combines quality of comfort and the freedom of a camping chair."
Parren's nomadic experiences prompted him to combine innovative design with new technologies as a solution for our times. His interest in 3D printing and LED has given him a fresh approach to design: a design based on reaction to colours, unstable conditions and basic comfort.
Parren believes a light is not designed to show how something happens or why it happens, but rather to "show light as the true guardian of colour". Thus a complex metal network can become a way to break up an LED light's emissions to create an expressive game of projections around the object, starting from the object itself.
Parren is  particularly known for creating radical objects. He doesn't create objects to be looked at, but instead makes forms that have an effect on the environment, giving them additional value. He believes a light is always more than a light, a couch always more than a couch.  A key effect is a sense of surprise and unpredictability that the user gains through the object.
Parren was nominated for the Dutch Design Awards at Dutch Design Week 2012.  His work has been widely published and he has developed projects with important design schools.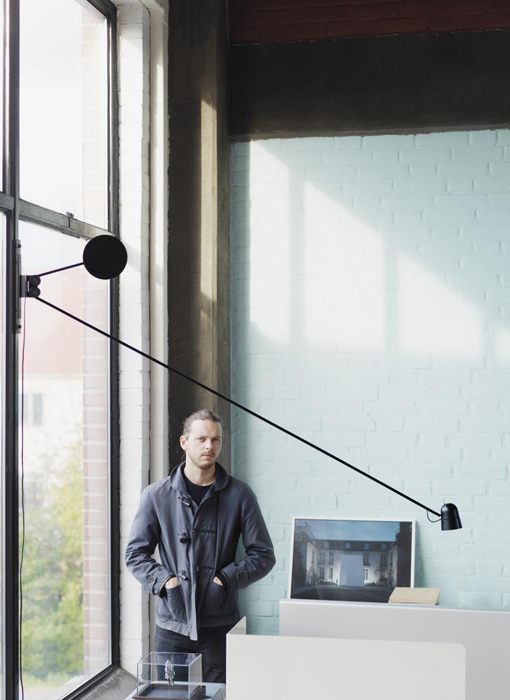 Daniel Rybakken grew up in Oslo, Norway. He studied design at the Oslo School of Architecture and at the School of Arts & Crafts in Gothenburg, Sweden. After graduating in 2008 with a Masters degree in Fine Arts, he opened his own design studios in both Oslo and Gothenburg.
Rybakken creates simple designs, stripped back to their essential elements, reinterpreting the curved organic forms of the Nordic School. Some of his creations evoke a sense of detachment from the present, combining modernity with a 50's aesthetic. Defying a core principle of Scandinavian design, his work is often not concerned with functionality, but rather focused on exploring complex conceptual questions concerned with physical identity, the illusion of reality and perceived values.
Rybakken's work occupies the area between art and design, forming limited editions, art installations and prototypes for serial production. Rybakken's work focuses on the exploration of natural and artificial light; his main preoccupation has been recreating the illusion of daylight.
Mobility, suspension, balance and manual actions are all recurrent themes. His exploration into the art world, such as his light installations, lend a surrealist value to his production.
His creations often serve aesthetic, rather than functional purposes, encouraging user interaction.
Daniel has received numerous awards, including: the prestigious 'Best of the Best' Red Dot Award in Singapore in 2007; the Anders Jahre's Cultural Prize for Young Artists in Oslo in 2008; the Design Report Award for best designer at Salone Satellite in Milan in 2009 and the Bruno Mathsson Award in 2011.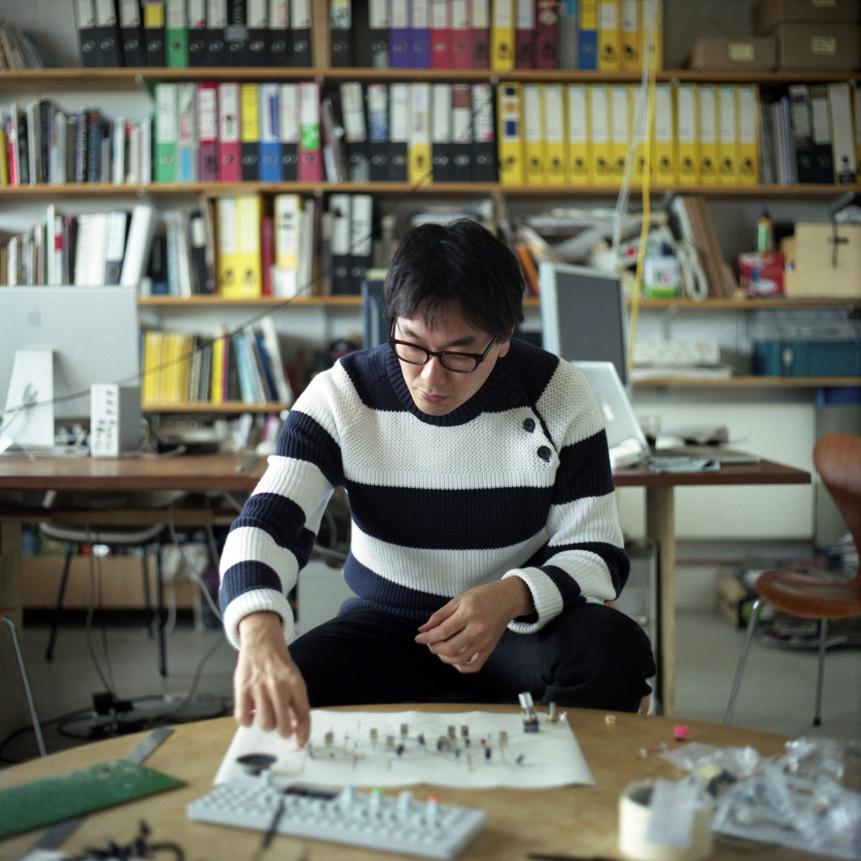 Born in Tokyo, Suzuki graduated with an MA in Product Design from the Royal College of Art and has lived in London since 2005. In 2010 he gained a Certificate of Advanced Studies in Augmented Reality from the Ecole Polytechnique Fédérale de Lausanne and the Ecole Cantonale d'Art de Lausanne.
He is a designer, sound artist and electronic musician who produces work that explores the realms of sound through exquisitely designed pieces. His work raises questions about the relationship between sound and people and how music and sound affect the mind. Yuri is fascinated by accessibility to technology and user interaction.
His creations are mostly entertainment. They are electronic apparatuses producing sounds and music: robots that transform colours into music; electric and digital interpretations of traditional musical instruments; music players inspired by pop culture and vinyl albums.
These objects encourage user creativity, to experience good vibrations and phenomenological readings of the musical space.
Suzuki's view is highly ironic. His products, some of them created in small numbers, are coloured, strangely anthropomorphic and witty.
His entire work is a positive critique of both the world of contemporary music and the DJ character – the ultimate creator and mixer of sounds.
The title of one of his installations, "Make Something from Nothing", could be considered his work's motto.
Design Associate at the Walt Disney Research, in 2013 Yuri founded Dentaku Ltd which is an R&D consultancy for companies such as Widen and Kennedy, KKoutlet and AIAIAI.